SADA
Together, we're all in
Creating a new brand for an award-winning Google Cloud partner
Challenge
SADA, an award-winning Google partner and industry leader providing cloud expertise that helps accelerate application development, boost user experience through data, and advance productivity and collaboration, had recently sold off its Microsoft business and was all-in with Google Cloud. After 20 years, via organic entrepreneurial growth, SADA had also evolved into one of the top award-winning Google Cloud partners. However, the brand wasn't telling this story. Scaling to meet extraordinary demand required SADA's leadership to consider how to communicate its "never give up" culture to new talent and set expectations for excellence with clients. Given its ability to drive impact at scale, SADA was ready to assert its leadership role in the cloud ecosystem.
Insight
Through comprehensive research—including the use of our proprietary EyeOpener™ tool—we uncovered drivers specific to the cloud marketplace and showed opportunities to leapfrog the traditional systems integrators. We also engaged SADA-ians in focus groups to include them in the process and socialize the coming brand transformation.
SADA often sold Google Cloud, but it wasn't clear why Google Cloud with SADA mattered. We helped articulate why someone would want to partner with SADA in a Google Cloud deployment so the company could better tell that story. Ultimately, the performance SADA delivers in connection to the Google Cloud ecosystem becomes a must-have, not just an add-on. This changes how companies can work and harnesses the power of what technology can do.
Answer
SADA's determined, can-do culture is a strong driver for helping its clients transform their businesses. To capture the idea of performance and determination, we looked at the visual vocabulary of automotive brands. This allowed us to emphasize the organization's dynamism and capture a sophisticated elegance and simplicity that mirrors SADA's technical prowess and diligence in developing flawless cloud solutions. Additionally, we needed to express the collaborative spirit with which SADA approaches all engagements. One of the areas where we could codify that is in the interlocking bowls of the initial S in the name SADA.
SADA's rebrand combines an "all in" attitude with collaborative teamwork to stand out from the competition with a performance brand orientation. More nimble and responsive than traditional systems integrators and more focused and dedicated than new-breed cloud transformation consultants, SADA's new brand helps it attract the best talent and the most interesting client assignments.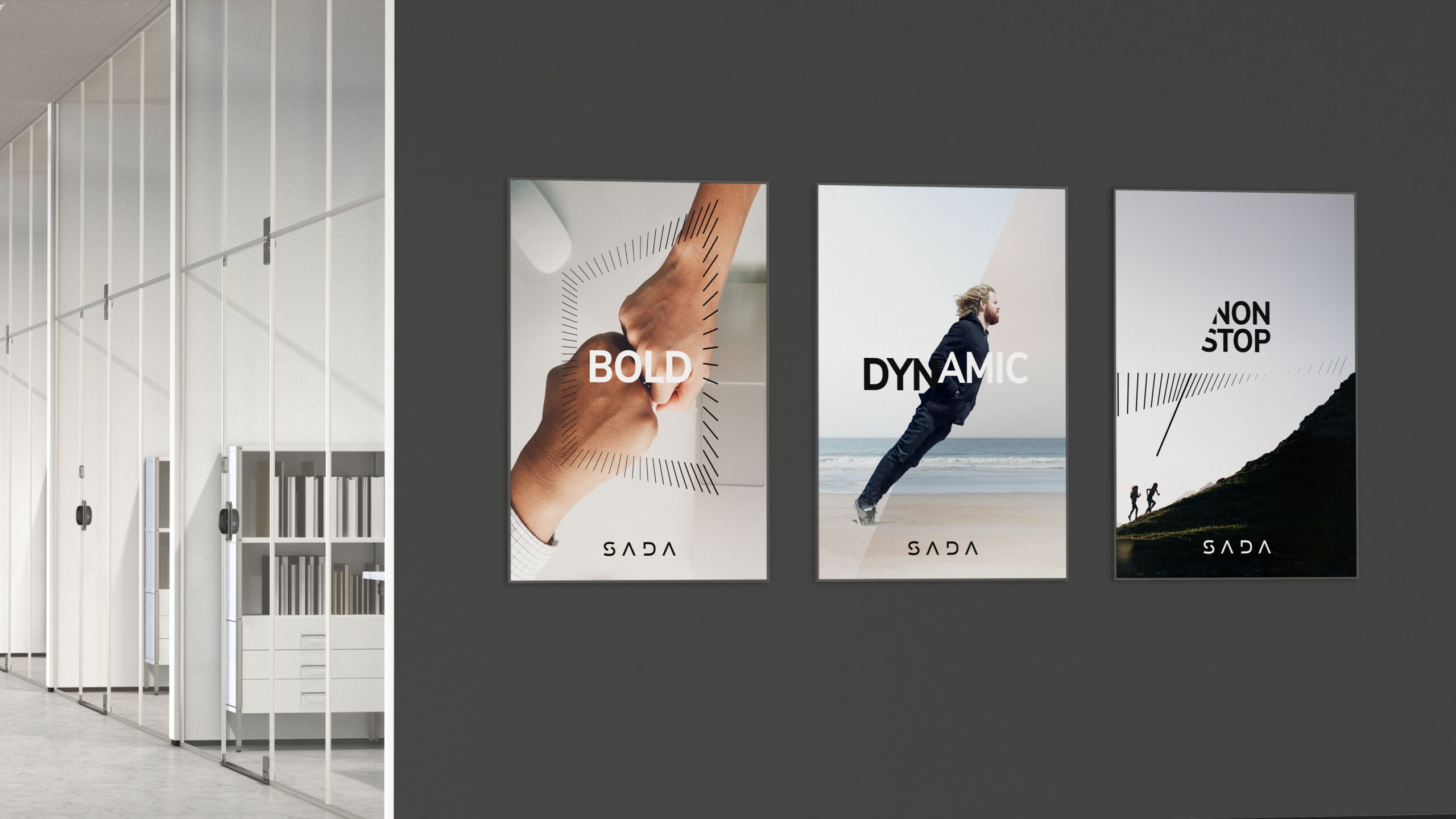 We also partnered with the SADA team to simplify and streamline the website experience. Unexpected interactions and bold movements are used to engage, delight and highlight SADA as different in their space.

The previous brand expression didn't reflect the stature and the growth of SADA's business. SADA's culture is a critical ingredient in how it delivers meaningful results for its clients, so the new brand captures that spirit while ensuring it has the elasticity and longevity to grow as the company evolves.

Matthias Mencke, Group Creative Director, Siegel+Gale